Where do the tourists buy fasteners in Warsaw
But what the hell does it mean – travel oriented fastener stock. It sounds strange but the story is simple
Sopot is the richest Polish city
The richest city in Poland is the resort of Sopot. Such data were published by the Central Statistical Office of Poland. According to the Polish Radio Abroad in 2010 the average per capita income in Sopot was 6509 PLN (about 1570 Euros).
Small private shops in Poland lose competition to major retailers. According to the Polish Radio, for the past two years about 50 000 small shops were closed down across the country.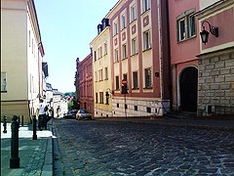 Prices for accommodation in Poland continue to fall
Polish real estate market is experiencing another phase of decrease. According to the Polish Radio, in the third quarter of 2011 prices for apartments, houses and other types of real estate property in Poland decreased by 1.5% compared with the price level for the same period in 2010.
A network of electro service stations will be build in Poland
To date energy car market in Poland is just beginning to emerge. Among the proposals that currently available for Polish consumers is a model of the Japanese carmaker Mitsubishi i-MiEV. Also in 2011 in Poland should appear energy cars from Peugeot-Citroen and Opel.
Accommodation in Poland is getting cheaper
Construction boom in Poland comes to naught. Prices per square meter in Polish cities are rapidly getting down. At the same time experts predict that housing prices in Poland have not yet reached its bottom and will soon be lower by 500-1000 zloty per square meter.
Hotels in Poland: 10 new Super 8
One of the leading hotel chains in the world will open in Poland 10 hotels. Wyndham Hotel Group corporation, which is considered as the largest in the world by the number of hotels under its management, has signed a contract to open in several cities of P
Hotels in Poland: first chain of budget hotels
In Poland will appear another native hotel brand. Budget hotels under the Chaber brand will become the first chain of budget hotels in Poland.
Poland and Kaliningrad: visa-free regime?
Poland intends to convince Brussels to introduce visa-free regime for citizens of the Kaliningrad region of Russia. On Monday December 27, 2010 it was reported by The Telegraph.
British Airways are to acquire LOT
A number of Polish media reported on December 20, 2010 about the possible purchase of the Polish airline LOT by the largest air carrier in Britain British Airways. In particular, the message about the possible sale of LOT to the Britons published the Poli
Polish vodka will be bottled in India
The famous Polish vodka Sobieski will be bottled in India. As expected, the first batch of Sobieski will appear in Indian supermarkets in April 2011.
In Warsaw was opened the largest in Poland Marks & Spencer
In Warsaw was held the opening of the shop of the famous British retailer Marks & Spencer. Poland's largest Marks & Spencer shop is located in the Wars & Sawa, Junior commercial center.