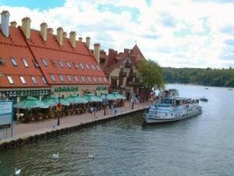 "Behind the Iron Curtain" exhibition will be opened in Gdansk
"Behind the Iron Curtain" exhibition will be opened in Gdansk
The National Museum of Gdansk offers a unique exhibition of Polish and Soviet art of the Cold War era.

The exhibition, which received a big name "Behind the Iron Curtain: Official and Independent Art of Poland and the Soviet Union, 1945-1989" will be held under the patronage of one of the most famous inhabitants of Gdansk, the former president of Poland - Lech Walesa.

Works of art will be presented in chronological order, starting with the most ideologically-strong post-war period of 1940-1950s, when artists were forced to create works in a spirit of Socialist Realism in support of ideological propaganda.

Part of the exhibition will include works of the so-called "Khrushchev thaw" period, when the artists received some degree of creative freedom. According to the decree of the Communist Party of Poland, creative freedom and abstractionism should not exceed 15%.

At the exhibition will be presented works of such legendary Cold War Polish artists as Tadeusz Kantor (1915-1990) and Jerzy "Jurry" Zielinski (1943-1980).

Works for the exhibition were given by the chairman of the Polish Foundation for Contemporary Art in Warsaw, Piotr Nowicki.

After the exposure Gdansk exhibition "Behind the Iron Curtain" will travel to Moscow.
Alesia Belaya
Date: 26/04/2012
Comments
No comments
News
19/07/2012
Madonna's concert in Warsaw can be cancelled
Polish concert of the legendary singer Madonna, which is planned to be held in Warsaw in August on the 68th anniversary of the Warsaw Uprising, is in jeopardy.

15/07/2012
Poland has translated Communist monopoly into Russian
Recreation industry in Poland is being developed not only at the resorts. Unusual version of the "Monopoly" was created in Poland. "Queue" (in Polish - "Kolejka") is the name of the game that offers participants try their hand in the communist economy.

28/06/2012
Entertaining tourist tram and omnibus appeared in Warsaw
Unique tourist program has been launched in the Polish capital of Warsaw. Entertaining historical tram line organized by the club "Friends of the public transport" will carry tourists along the most famous sights in Warsaw.


RSS
Login
Newsletter
<![if (IE 6)]> <![endif]>